Front-end Features
Mobile Friendly
The directory, search, sort, paging and controls are all responsive.
Select Search Fields
If you have search enabled you can select which fields users can search by.
Search by Radius
The plugin geocodes addresses and allows users to search by zip/postal code.
Select Sort Fields
If sorting is enabled, you can select which fields users are able to sort by.
Google Maps
Display users by location in a Google Map.
Author Pages
The plugin comes with a styled author template for displaying users.
Gravatars
This plugin supports user gravatars in the directory.
---
Back-end Features
Create Multiple Lists
You can create multiple lists with whatever users you like in each.
Customize Directory
Select which data you want displayed and in what order.
Add Users by Role
You can add all users to a list or you can add them by role.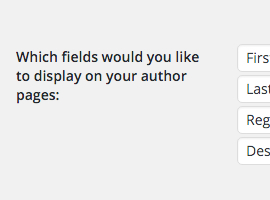 Customize Author Page
You can select which fields you want displayed on author pages.
Choose Users
Easily add and remove users from lists.